Peanut Butter Granola
Prep time |
Baking time: |
Freezing: excellent
Yield 8 cups (2L)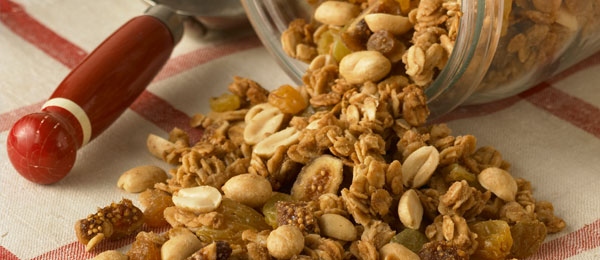 Ingredients:
2 tbsp (30mL) Vegetable Oil
2/3 cup (150mL) Adams® 100% Natural Creamy Peanut Butter
2/3 cup (150mL) honey
1/2 tsp (2mL) ground cinnamon
1 tsp (5mL) vanilla extract
4 cups (1L) Oats
1 cup (250mL) dried blueberries or cranberries
1 cup (250mL) peanuts

Directions:
Preheat oven to 300°F (150°C). Drizzle a large (15x10x1"/38x25x2.5cm) rimmed baking sheet or pan with vegetable oil and place oats in pan.
Combine peanut butter, honey and cinnamon in small saucepan; heat through. Remove from heat and stir in vanilla.
Pour warm peanut butter mixture over oats and stir gently until oats are coated. Spread evenly in pan.
Bake 35 to 40 minutes, stirring occasionally until granola is dry and crispy.
Turn off oven, remove pan and stir in dried blueberries or cranberries and peanuts.
Return to oven and leave in oven as it cools, at least 2 hours or overnight.
Tips:
This is a great make ahead recipe that will last at least 1 week at room temperature in an airtight container. It would also make an excellent cold breakfast cereal served with milk.
This recipe will work well with any nut/dried fruit combination such as almonds and chopped dried apricots, walnuts and dried strawberries, hazelnuts and dried figs etc.