Peanut Butter Dip
Prep time |
Freezing: not recommended
Yield 1 1/3 cups (325mL) dip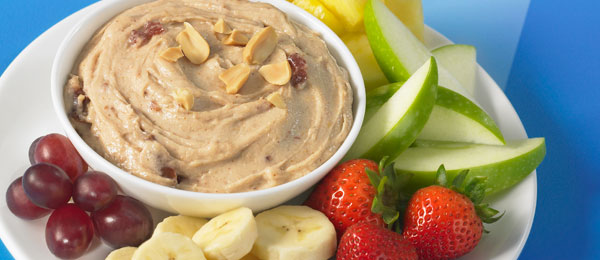 Ingredients:
½ cup (125mL) Adams® 100% Natural Creamy Peanut Butter
¼ cup (50mL) Smucker's® Simple Blends® Summer Fruit Fruit Spread
½ cup (125mL) Greek Style or plain yogurt
2 tbsp (30mL) apple juice, plus additional if desired
¼ tsp (1mL) ground cinnamon
Cut fruit for dipping: apples, pineapple, cantaloupe, strawberries, blueberries, bananas, grapes
Optional toppings: Ground flax seeds, wheat germ, chopped nuts

Directions:
Combine first 5 ingredients in serving dish. Thin with additional apple juice if necessary to achieve desired consistency.
To serve, place assorted fruit on serving platter, dip fruit and then top with flax seeds, wheat germ or nuts if desired.
Tips:
This would make a great pre or post workout snack. For a different presentation, alternate pieces of cut up fruit on skewers and serve with dip fondue style.