Grilled Curry Shrimp
Prep time |
Cook time: |
Yield 4 servings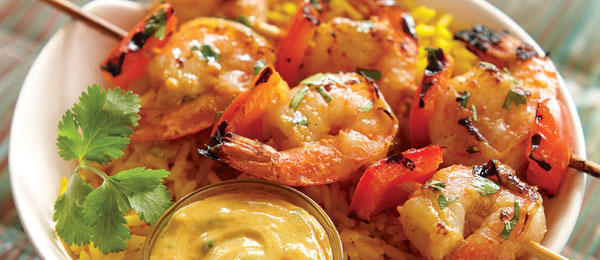 Ingredients:
¼ cup (50mL) Adams® 100% Natural Creamy Peanut Butter
¼ cup (50mL) Smucker's® Pure Orange Marmalade
1 tbsp (15mL) Dijon mustard
1 tbsp (15mL) mild curry paste or powder
1 tsp (5mL) Asian chili garlic sauce, or more to taste
1 tbsp (15mL) chopped cilantro
2 tbsp (30mL) warm water
1 ½ lbs (675g) large raw shrimp (21 to 25 counts)
8 wooden skewers, soaked in water
1 medium red pepper, cored and cut into 1" (2.5cm) squares
Cooking/Grilling Spray

Directions:
Blend first 7 ingredients in small bowl. Combine shrimp and ¼ cup (50mL) of sauce in medium bowl and stir to coat evenly.
Marinate 30 minutes. Meanwhile, cover and refrigerate remaining sauce for use as dip.
Spray grill or grill pan with cooking/grilling spray.
Thread shrimp on skewers alternately with red peppers.
Grill 3 to 5 minutes per side, until desired doneness. Serve with rice and reserved peanut sauce.