Pear and Spring Mix Salad with Peanut Dressing
Prep time |
Yield 4 servings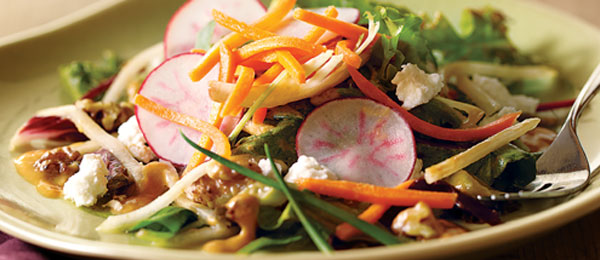 Ingredients:
Dressing:
1/3 cup (75mL) Adams® 100% Natural Creamy Peanut Butter
¼ cup (50mL) seasoned rice vinegar
2 tbsp (30mL) sesame oil
2 tbsp (30mL) water, plus additional for thinning if necessary
1 ½ tbsp (22mL) sugar
2 tsp (10mL) Asian chili garlic paste, or more to taste
1 tsp (5mL) fresh ginger, grated
Salad:
5 oz (150g) spring mix salad greens
2 medium ripe pears, peeled and sliced
2 medium green onions, thinly sliced
¼ cup (50mL) toasted walnut pieces
¼ cup (50mL) crumbled feta cheese
1 medium carrot, shredded
2 radishes, thinly sliced

Directions:
Combine all ingredients for dressing until smooth.
Toss with remaining ingredients.
Serve immediately.