Moroccan Peanut Couscous with Peas
Prep time |
Cook time: |
Yield 4-6 servings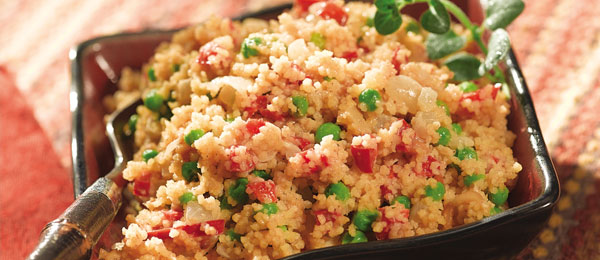 Ingredients:
1 tbsp (15mL) Vegetable Oil
½ cup (125mL) chopped onions
½ cup (125mL) chopped red pepper
3 cloves garlic, minced
1 ½ cups (375mL) chicken stock
½ tsp (2mL) ground cumin
½ cup (125mL) Adams® 100% Natural Creamy Peanut Butter
1 cup (250mL) couscous
1 cup (250mL) frozen peas
2 tbsp (30mL) chopped cilantro
1 green onion, thinly sliced

Directions:
Heat oil in medium saucepan over medium heat.
Add onion, pepper and garlic. Cook until transluscent. Add the broth and cumin and bring to a boil.
Whisk in the peanut butter. Blend well.
Stir in couscous and return to the boil, stirring constantly.
Remove from heat and let sit covered, about 5 minutes or until liquid is absorbed.
Fluff with fork and stir in peas, cilantro and green onions.
Cover and let sit another 5 minutes or until peas are thawed. Serve.
Tips:
This is an excellent side dish served warm or cold.