Pork Tenderloins with Asian Peanut Sauce
Prep time |
Cook time: |
Yield 6-8 servings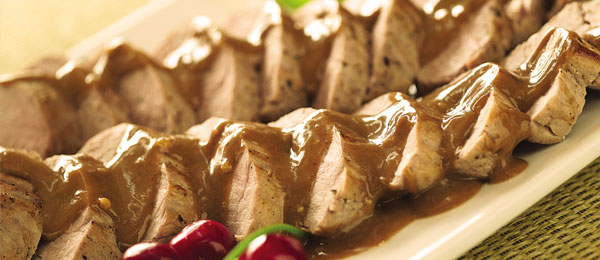 Ingredients:
1 tbsp (15mL) Vegetable Oil
Salt and pepper to taste
2 (1lb/450g each) pork tenderloins
½ cup (125mL) chicken broth
½ cup (125mL) Adams® 100% Natural Creamy Peanut Butter
½ cup (125mL) hoisin sauce
2 tsp (10mL) fresh ginger, grated
2 tsp (10mL) garlic, minced
Chives or green onions for garnish

Directions:
Heat oven to 375°F (190°C). Line a shallow pan with foil. Heat oil in a large skillet over medium high heat.
Season tenderloins with salt and pepper.
Brown each tenderloin on all sides in skillet.
Transfer meat to prepared pan. Roast tenderloins for 15 minutes or until the internal temperature reaches 160°F (71°C). Meanwhile, whisk remaining ingredients together in small saucepan over medium heat until smooth.
Remove from heat. Slice cooked meat and drizzle with warm peanut sauce. Garnish if desired. Serve.