Dark Chocolate Cherry & Nut Bars
Prep time |
Freezing: Excellent
Yield 16 bars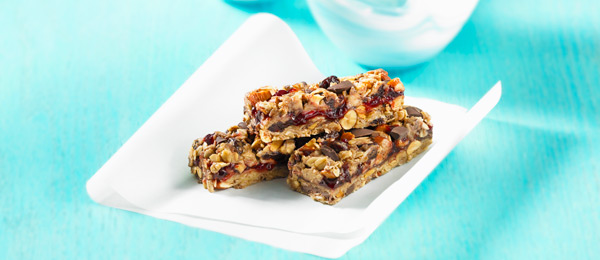 Ingredients:
1 cup (250 mL) Adams® 100% Natural Creamy Peanut Butter
1 cup (250 mL) Robin Hood® Oats
¼ cup (50 mL) honey
½ cup (125 mL) dried cherries
½ cup (125 mL) chopped toasted almonds
½ cup (125 mL) chopped dark chocolate
½ cup (125 mL) Smucker's® Simple Blends® Summer Fruit Fruit Spread

Directions:
Microwave peanut butter 80-90 seconds or until warm. Stir in oats, honey, cherries and almonds. Let cool slightly then mix in chopped chocolate allowing them to melt slightly together. Press half of mixture into an 8" foil-lined pan. Using a spoon, spread fruit spread over top of mixture until covered. Spread remaining mixture on top, pressing to smooth. Refrigerate 3 hours to overnight. Cut into bars.
Tips:
For a spin on this recipe, add up to 3 tbsp (45 mL) chocolate or vanilla flavoured protein powder.