Mini PB Oat Cups
Prep time |
Freezing: Excellent
Yield 24 mini bites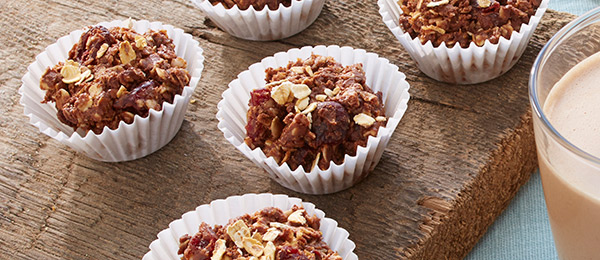 Ingredients:
½ cup (125 mL) each chopped dark chocolate and dried cranberries or raisins
1 cup (250 mL) Adams® 100% Natural Creamy Peanut Butter
1 ½ cups (375 mL) Robin Hood® Oats
2 tbsp (30 mL) honey or agave syrup
1 tbsp (15 mL) ground flax, chia or wheat germ
Cinnamon to taste

Directions:
Melt chocolate in large microwaveable bowl on medium (50%) power for 2-3 minutes, stirring frequently until melted.
Mix in remaining ingredients.
Press into mini muffin cups with liners.
Refrigerate until firm, about an hour.
Tips:
Sprinkle with toasted oats – spread oats on a baking sheet and bake in 350°F (180°C) until golden.